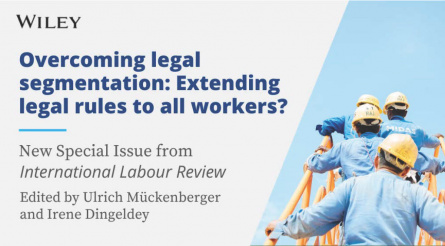 Irene Dingeldey and Ulrich Mückenberger edited the latest issue of the International Labour Review, which focuses on the concept of legal segmentation that was developed in the CRC 1342.
The International Labour Organisation (ILO) has published the Special Issue Overcoming legal segmentation: Extending legal rules to all workers? in its journal International Labour Review. The volume was edited by Irene Dingeldey and Ulrich Mückenberger ( project A03) and features results from the first funding period of the CRC 1342 on the concept of legal segmentation (i.e. labour market segmentations that stem from state law) and related quantitative results. The Special Issue is supplemented by regional studies by recognised experts on South Asia, Latin America and Southern Africa, which essentially confirm the argument that law plays a segmenting role, which has only been moderated in recent decades by equalising normative elements. In this volume, the ILO also includes the critical view that its own norm-setting practice is characterised by legal segmentation and has only recently given more space to universalising regulation.
The ILO's International Labour Review is published in English, Spanish and French, which means that the results of project A03 enter into a global discourse among academics, practitioners and political decision-makers involved in social policy.
---
Ulrich Mückenberger & Irene Dingeldey (2022): Overcoming legal segmentation: Extending legal rules to all workers?, International Labour Review (Special Issue), Volume 161 (4). https://onlinelibrary.wiley.com/toc/1564913x/2022/161/4
Contact:
Prof. Dr. Irene Dingeldey
CRC 1342: Global Dynamics of Social Policy, Institute Labour and Economy
Wiener Straße 9 / Ecke Celsiusstraße
28359 Bremen
Phone: +49 421 218-61710
E-Mail:
dingeldey@uni-bremen.de
Prof. Dr. Ulrich Mückenberger
CRC 1342: Global Dynamics of Social Policy, Faculty of Law
Universitätsallee, GW1
28359 Bremen
Phone: +49 421 218-66218
E-Mail:
mueckenb@uni-bremen.de