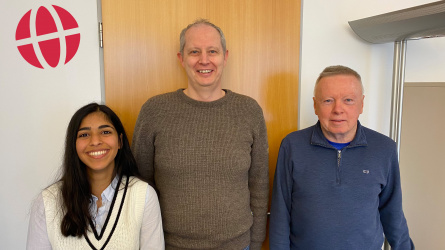 Hüma Nauroozi, Dr. Achim Schmid and Ed Miller, PhD
Interview with Achim Schmid, postdoctoral researcher, Hüma Nauroozi and Ed Miller, both interns in project A04 "Global Developments in Health Care Systems"
In the framework of their mandatory internships Hüma and Ed are part of the project A04 from October to December, 2023. Hüma Nauroozi is a Bachelor student of Public Health in the 5th semester. Ed Miller is a Master student of "Sozialpolitik" (Political Science) in the 3rd semester.
Could you give us a brief overview of what the A04 project is all about?
Achim Schmid: The project pursues three research goals: first, to describe the evolution of healthcare system generosity, its inclusiveness and scope of benefits, worldwide, from its inception to the present; second, to identify and explain the temporal and spatial patterns of inclusion and benefit dynamics; and third, to explore the role of specific causal mechanisms and to explain the findings of the project's first phase concerning the timing and emergence of specific healthcare system types in select African countries.
Currently, the main focus lies on the measurement and portrait of inclusiveness ("Which social groups are covered by the healthcare system?") and scope of benefits ("What kind of benefits are covered?") based on healthcare legislation. After the manual annotation of selected documents, we plan to use AI-learning models to extract generosity information. The information will contribute to the Welfare State Information System (WeSIS) of the CRC.
What are your academic interests and what tasks do you have in the project?
Hüma Nauroozi: I am studying Public Health at the University of Bremen in the 5th semester and I am currently looking for a topic for my bachelor thesis. My research interests relate primarily to qualitative and quantitative empirical research of health care systems in a global context. My main tasks include data collection and analysis of health legislation as well as preparing a country brief on the Rwandan healthcare system with its own peculiarities.
Ed Miller: I am a retired Army Officer with a PhD in Public Policy from the University of Maryland. Previously, I was a consultant at Booz Allen Hamilton Inc. At present, I am doing a Double Degree Master Program in Political Science/Sozialpolitik at the University of North Carolina and the University of Bremen. As part of my internship, I focus on the complex healthcare system of the United States of America. In this regard, I examine legal texts and laws.
Two months behind and one month ahead: How do you look back on your internship here at the CRC 1342?
Ed Miller: We appreciate that we have the opportunity to make a real contribution to research of the CRC 1342. In our team, we have the feeling that we work on an equal footing with our colleagues. We are very pleased that the results of our work are to be published at the end of our internship.
Hüma Nauroozi: A personal highlight for me was the Africa workshop organized by Julian Götsch and Lorraine Frisina-Doetter in November. The discussions and meeting experts on Kenya and Nigeria, some of whose work I had previously only read in class, was a great experience for me and I learned a lot.
Achim Schmid: We are very happy about Hüma's and Ed's contribution to our project and of course we hope that they can also profit from their research experience.
Contact:
Dr. Achim Schmid
CRC 1342: Global Dynamics of Social Policy
Mary-Somerville-Straße 3
28359 Bremen
Phone: +49 421 218-58526
E-Mail:
aschmid@uni-bremen.de