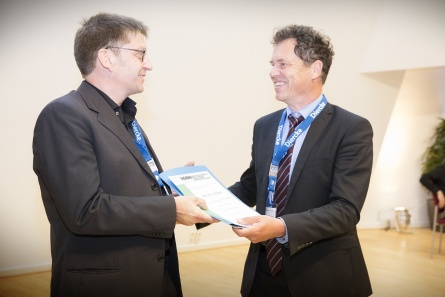 Prof Dr Ivo Mossig (on the left)
The Association for Geography at German-speaking Universities and Research Institutions has honoured him for his module "Introductory Project" at the University of Bremen.
Research-based learning, which the University of Bremen considers very important, begins at the Institute of Geography right at the beginning of the first semester: students choose a topic and work on it scientifically. They then investigate their own questions empirically and test suitable methods. They are closely accompanied by their lecturers in small groups of up to five people. Finally, they present their posters to the university public, which illustrate the results of their scientific work. "We build on our students' previous knowledge and at the same time strengthen their motivation for the subject," says Mossig.
At the same time, the students acquire methodical tools: quoting correctly, initial laboratory analyses, conducting and evaluating surveys, interviews with experts, applying simple statistical methods or mapping their own results. "We integrate content and methods and take up this challenge right at the start of the course," says Mossig.
The "information of the week" is also part of the introductory project module. In weekly snacks of ten minutes each, students receive organisational and non-technical information on all aspects of their studies: the topics range from examination registration and international semesters to studying with a child.
Since the winter semester 2017/18, Mossig and his colleagues at the institute have been conducting the introductory project. It has proven to be a success: "It stimulates students' enthusiasm to study and their interest in their own research," says Mossig.
Contact:
Prof. Dr. Ivo Mossig
CRC 1342: Global Dynamics of Social Policy
Mary-Somerville-Straße 3
28359 Bremen
Phone: +49 / 421 / 218 67410
E-Mail:
mossig@uni-bremen.de