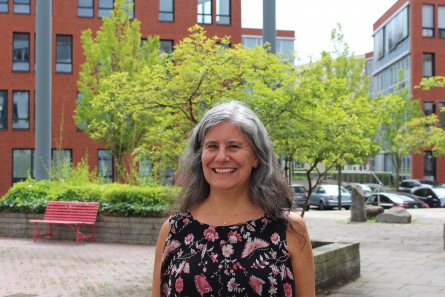 Prof. Natalia Sobrevilla Perea, University of Kent
Prof. Natalia Sobrevilla Perea, University of Kent
As part of the CRC 1342's Jour Fixe, Prof. Natalia Sobrevilla Perea from the University of Kent presented her research on the social care network in the nineteenth century Peruvian army on 12th of July. In her presentation she gave insights into her forthcoming book "Armed citizens and citizens in arms, the military and the creation of Peru (1800-1870)" (Cambridge University Press).
She explained her findings, based on her historical research in different archives, on how the Peruvian army was the first state institution to provide specific social care networks regarding health care, retirement, survivors pensions as well as veteran's pay. After the lecture, Natalia Sobrevilla Perea discussed with colleagues and students the origins, structures and processes that lead up to this unique development.
Natalia Sobrevilla Perea is Professor of Latin American History at the School of Languages and Cultures at the University of Kent. Her research interests include state formation and political culture in the Andes from the end of the colonial period throughout the nineteenth century, as well as issues of identity, race and ethnicity, and military culture in the nineteenth and twentieth centuries in South America.
Publications:
Sobrevilla Perea, N. (2023) 'The Abolition of Slavery in the South American Republics', Slavery and Abolition. Taylor & Francis, pp. 90-108. doi: 10.1080/0144039X.2022.2122814.
Eastman, S. and Sobrevilla Perea, N. (2022) Independence and Nation-Building in Latin America. Race and Identity in the Crucible of War. New York, United States: Routledge. Available at: https://www.routledge.com/Independence-and-Nation-Building-in-Latin-America-Race-and-Identity-in/Eastman-Perea/p/book/9780367820718.
Sobrevilla Perea, N. (2023) 'Emerging States', in Posada-Carbo, E., Innes, J., and Philp, M. (eds) Re-imagining Democracy in Latin America and the Caribbean, 1780-1870. Oxford, UK: Oxford University Press. Available at: https://global.oup.com/academic/product/re-imagining-democracy-in-latin-america-and-the-caribbean-1780-1870-9780197631577?cc=fi&lang=en&#.
Contact:
Prof. Dr. Delia González de Reufels
CRC 1342: Global Dynamics of Social Policy, Institut für Geschichtswissenschaft / FB 08
Universitäts-Boulevard 13
28359 Bremen
Phone: +49 421 218-67200
E-Mail:
dgr@uni-bremen.de