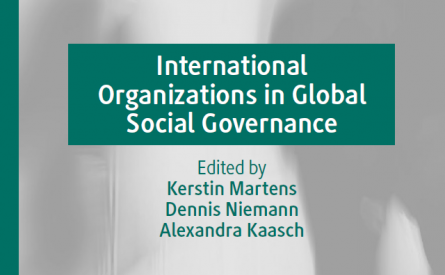 Book four of the series, edited by Kerstin Martens, Dennis Niemann and Alexandra Kaasch, examines the influence of International Organisations on the development of several social policy fields.
International organisations (IOs) are important political actors that affect the development of many social policy fields. The volume "International Organizations in Global Social Governance" enhances and systematises our understanding of the role IOs play in global social policy.
In 14 chapters, the authors shed light on the engagement of IOs in the social policy fields of labour, migration, family, education, as well as environment and health. They record which IOs are involved in the discourse in each field and which trends they set. The authors also examine the discourse within and between the IOs. This book thus makes a significant contribution to research on social policy and international relations, both in terms of theoretical substantiation and the empirical scope.
The book is based on an international workshop of the CRC 1342 project A05 "The Global Development, Diffusion and Transformation of Education Systems", which took place at the University of Bremen in May 2019.
---
Read the full book (open access):
International Organizations in Global Social Governance
Contact:
Prof. Dr. Kerstin Martens
CRC 1342: Global Dynamics of Social Policy, Institute for Intercultural and International Studies
Mary-Somerville-Straße 7
28359 Bremen
Phone: +49 421 218-67498
E-Mail:
martensk@uni-bremen.de
Dr. Dennis Niemann
CRC 1342: Global Dynamics of Social Policy, Institute for Intercultural and International Studies
Mary-Somerville-Straße 7
28359 Bremen
Phone: +49 421 218-67473
E-Mail:
dniemann@uni-bremen.de