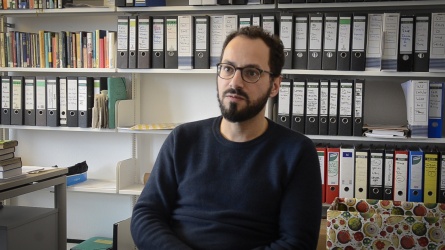 Dr Roy Karadag
Roy Karadag looks back on two short research stays in Egypt and reports on bureaucratic hurdles, promising archives and the devastating state of the Egyptian education system.
You travelled to Egypt for project B09. Where exactly have you been and for how long?
I was in Cairo for two shorter stays: one from late September to mid-October and then again from mid-November to early December. I was a Visiting Fellow at the Department of Political Science at the American University in Cairo.
What were your plans for these two research stays?
I knew that access to authorities, ministries and politicians in Egypt had become tricky. With the harsh repression that has prevailed since 2013, the situation has also become increasingly difficult for scientists, especially for European or US scientists. It is very difficult to build up well-founded networks locally if you have not yet researched and published on Egypt, as it is the case with me. That is why my trips to Cairo were primarily intended to find out whether I would even get access to the ministries in order to find out how social policy is negotiated and implemented over there.
And how did it go?
I initially conducted eight or nine interviews, mainly with teachers and doctors, and I also had several background talks with academics. First of all, I wanted to talk to the people who are active in the socio-political fields we are investigating. I wanted to find out what these people could tell me about dealing with health insurance companies or with the apparatus, the ministries. I wanted to know which political decisions are relevant to their everyday lives and which developments determine them the most.
And what about access to authorities and ministries?
I come back a little disillusioned. During my first stay, I approached the university experts in the social policy fields. One was even an advisor to the Minister of Education. But unfortunately this was not helpful for access to ministries and politicians. I will probably have to give up the idea of being able to conduct expert interviews in the ministries. This is a great pity, because research on Egypt in the 1990s and 2000s by people who were able to expand their networks over many years was really strong: great books on power networks, corruption, Islamist and other opposition groups; but unfortunately very little on policy fields such as health and education.
Today there are invincible bureaucratic procedures to prevent unpleasant research and research into opposition and resistance. And, unfortunately, also harsh violence, as the murder of the Italian doctoral student from Cambridge showed. Such violence only needs to be used once or twice to ensure that the message really is heard and that the fingers are kept off the investigation of trade union activism. Cairo has become really unfree in this respect.
What does this mean for your work?
We will confine ourselves to going through the historical material, the newspaper archives, in order to reconstruct certain phases and certain socio-political decisions. Building on this, we want to see what effect this has had on issues of state formation, state-society relations, people's expectations of governments and administration. Thus we can best develop something like a historical theory of social policy in Africa to show what is specific to Africa and what role the continent plays or can play in discourses on global social policy.
The access to the archives is guaranteed?
The newspaper archives are now fairly well available online. Of course I still try to get access to central archives. In Cairo, the central location would be Dar al-Watha'iq, the Egyptian national archive. It's all just a matter of formal enquiries and will probably be a longer bureaucratic process. But it should be possible. It would be nice to have such material on decrees, because these decrees are most likely to show what everyday political life looks like in Egypt.
You are examining three policy areas: Health, education and nutrition. Which period do you want to cover?
Our plan is to cover the whole century - 1918 to 2018. Of course it is difficult to investigate three policy fields over 100 years. Therefore, when analysing the newspaper archives, other material and secondary literature, we concentrate primarily on the major shifts that occurred in North Africa in the 1950s and 1960s. In Egypt, the late 1940s and early 1950s are very interesting because social policy served for the first time to legitimise the new state bureaucracy.
You mentioned that you interviewed teachers and doctors. What was the most interesting thing you learned from these people?
The focus of the conversations was on education, and a depressing picture emerged. Egypt is a poor country with huge social inequality. This is also evident in the field of education and education policy. Upper middle classes and the rich have detached themselves and can offer their children diverse and good educational opportunities. They have already sent their children to German, American or British schools in the past, and now the Japanese are also involved. There is strong differentiation and competition within the economic and bureaucratic elites and their children for power opportunities in decades to come. This competition is brutal. There is something like a central baccalaureate, but there are also accusations of corruption and fraud. There is much room to turn money into educational opportunities, while lower classes struggle with overcrowded classes, difficult transportation systems and schools with poor infrastructure. That's why parents scrape together every cent to offer their children tutoring - and this tutoring is offered by teachers who don't earn much themselves. For the teachers it is not decisive to teach at a public school, but to give private lessons. This of course diminishes the quality of general education. All ideas developed in global educational discourses like interactive teaching and the like simply bounce off these harsh socio-economic realities.
You have now mapped the field and explored networks. How do you proceed?
I will go to Egypt and Cairo again to look at the material from the 1940s to the 1970s. I will systematically compile the material on relevant political decisions in order to discuss and evaluate the greatest similarities and differences within our project.
Contact:
Dr. Roy Karadag
CRC 1342: Global Dynamics of Social Policy, Institute for Intercultural and International Studies
Mary-Somerville-Straße 7
28359 Bremen
Phone: +49 421 218-67468
E-Mail:
karadag@uni-bremen.de