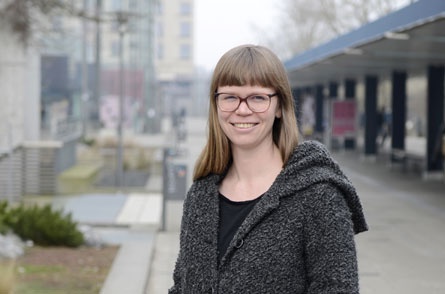 Dr. Teresa Huhle
Teresa Huhle on her search for clues, exciting conversations arising in archives, and her role in project B02.

What would you have become if you hadn't become a scientist?
When I started studying regional sciences Latin America in Cologne, I had two things in mind: to become either a journalist or to work for international organisations in the field of human rights or development assistance. However, these were no concrete plans, only vague ideas.
Why did you become a historian then?
From the first essay on, I enjoyed my studies, especially history - my other subjects were political science and Spanish. There were two phases in particular during which I realised that I would like to work as a historian: an internship in northern Spain and later my diploma thesis. The internship was about the victims of the Spanish Civil War. On the one hand I did archive research and looked through death records; on the other hand, I conducted interviews with people who could remember where there were anonymous mass graves. In this internship I was able to get to know historical research methods. Later I wrote my diploma thesis about the American participation in the Spanish Civil War. I was in San Francisco and New York for quite a while, where I worked in an archive on trade unions and other US left-wing movements. That was a great experience! It was that time when it became clear that I wanted to continue this kind of work.
What do you like about studying files and other documents?
I like the lonely side of archival work, the focused reading and discovery of documents. At the same time, archives are also places where a great many people from different regions meet and where exciting conversations arise.
Your main focus as a historian is Latin America. Why this region?
Even before my studies I had a great interest in Latin America and I had hoped that the study would give me many opportunities to travel there. After my detours into Spanish and American history, I wanted to work on Latin America during my doctoral thesis. In Bremen I had the chance to do my doctorate on the history of Colombia and to also look at connections to the USA. During my research trips to Colombia, I found the exchange with local colleagues very inspiring. The culture of science is different; the universities are more politicised than I knew it from Germany.
What is your role in the CRC?
I am working on a project in which we investigate the genesis of social policy in Uruguay, Argentina and Chile. The project has four work packages, one of which I will cover: I look at the early state-run social policy of Uruguay, from the late 19th century to the 1930s. I ask in particular how, why and with which effects the government has been involved in the areas of health and work - and of which other organisations it has taken over these tasks: namely the Church and philanthropy.
I am also working on a second work package to examine role the International Labour Organisation ILO in the formation process of social policy in the three countries.
How will you conduct your research?
I can't draw on interviews with contemporary witnesses during this period; thus, as a historian I will focus on archive work. We investigate transnational factors, e.g. the question: Who were Uruguayan physicians in contact with in other countries and international organisations? For me, this means a very international archive work. I will travel to Uruguay, but also to European archives, the ILO archive in Geneva and also to the USA. At the beginning it is about identifying who the central actors were, with whom they were in contact with and how the exchange of knowledge took place. In some cases there are hints I can follow up, but in others the field is completely unknown. I have surprise myself with the results of my archive visits.
When do you expect first results?
I'm going on extensive expeditions this year. Therefore, I will probably not have any results ready for beeing peer-reviewed until next year. But I hope to be able to bring preliminary results at presentation level from every trip.
Teresa Huhle at a glance:
Teresa Huhle is a research fellow at the Institute of History at the University of Bremen. In project B02, led by Delia González de Reufels, Huhle examines the development of early public social policy in Uruguay.
In 2015, Teresa Huhle received her doctorate at the University of Bremen for her thesis "Population, Fertility and Family Planning in Colombia during the Cold War: A Transnational History of Knowledge". Previously, Huhle had studied Latin American Regional Sciences at the University of Cologne, specialising in Iberian and Latin American History, Anglo-American History, Political Science and Spanish.
Contact:
Dr. Teresa Huhle
CRC 1342: Global Dynamics of Social Policy
Mary-Somerville-Straße 7
28359 Bremen
Phone: +49 421 218-57062
E-Mail:
teresa.huhle@uni-bremen.de