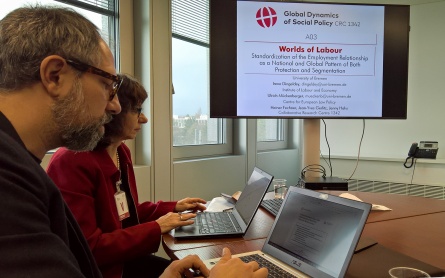 Irene Dingeldey and Jean-Yves Gerlitz in Geneva.
Members of project A03 discussed their research on the regulation of labour standards and their segmentation effect with experts of the International Labour Organization.
Project A03 was on a research visit to the International Labour Organisation (ILO) in Geneva from 3 to 7 December, represented by Dr. Heiner Fechner, Jean-Yves Gerlitz, Jenny Hahs and PD Dr. Irene Dingeldey. The ILO tries to implement minimum standards of labour regulation and health and safety in all countries of the world. In order to support this, the ILO is collecting relevant data worldwide and is pushing ahead with a wide range of studies and research tasks relating to the topic of labour. The ILO is thus an important partner organisation of CRC 1342 and in particular of project A03 "Worlds of Labour".
The research of project A03 on the regulation of labour standards and their segmentation effect was discussed with experts from the ILO's own research department (RESEARCH), the International Labour Standards Department (NORMES), the Labour Law and Reform Department (LABOUR LAW) and the Statistics Department (STATISTICS). Both the assumptions on the segmentation effect of legal norms and the planned analysis of the influence of colonial relations on the development of specific regulatory patterns met with great interest. The segmentation-effective influence of ILO instruments was also reflected. The use of leximetrics as a method for the analysis of labour regulations was commented both supportively and critically.
The ILO offered opportunities for cooperation both in terms of methodology and content. Very important: The exchange of data with the project and the database "WeSIS" planned by CRC 1342 is also welcomed. The exchange with the various departments is to be intensified in the future.
A first date will be the celebration of the 100th anniversary of the ILO in June 2019. At the large symposium "Globalization and Social Justice: A Century of ILO Action, 1919 - 2019", which takes place at the University Paris I Panthéon-Sorbonne in Paris, project A03 will be represented with a contribution by Prof. Dr. Ulrich Mückenberger.
Contact:
PD Dr. Irene Dingeldey
CRC 1342: Global Dynamics of Social Policy, Institute Labour and Economy
Wiener Straße 9 / Ecke Celsiusstraße
28359 Bremen
Phone: +49 421 218-61710
E-Mail:
dingeldey@uni-bremen.de
Prof. Dr. Ulrich Mückenberger
CRC 1342: Global Dynamics of Social Policy, Faculty of Law
Universitätsallee, GW1
28359 Bremen
Phone: +49 421 218-66218
E-Mail:
mueckenb@uni-bremen.de