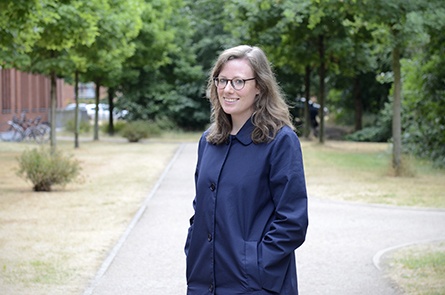 Dr. Johanna Kuhlmann
In an interview Johanna Kuhlmann, who moved from TU Braunschweig to the CRC 1342, explains why social policy combines the small things with the big picture and why it appeals to her to discover something new in the familiar.
You're a political scientist. When did you know this was the right job for you?
At least not when I started studying. I studied political science and German language and literature and at the beginning I had no concrete idea of what I wanted to become. Journalism was an idea, but that was very vague. I then did several internships related to political science and German literature.
What exactly?
I have worked in a ministry and with a member of the Bundestag, but also in a literature research institute. I knew I wanted to work in political science when I had my first job as a student assistant at university.
That was still in Münster, right?
Yes, I really liked that, because my professor at the time directly involved the student assistants in his research. I was involved in many discussions and could participate in research. I quickly got a comprehensive insight. So I thought: This mitght be it.
What are you interested in social policy?
When I started studying social policy, I was particularly interested in strategic aspects, specifically: Why do political actors cut social benefits that are essential for many people voting fir them? That was a few years after the Agenda 2010 reforms. My dissertation then focused more on the content dimension of social policy, i.e. how exactly does the provision of social policy services actually change? And how can this be explained - beyond strategic aspects? Even if social policy is incredibly small-scale and one can deal for a long time with paragraphs of individual social laws: Changes in social policy always make statements about the basic principles of social coexistence and about the question of what role the state is prepared to take in providing welfare for citizens.
Why did you swap your post-doc position in Braunschweig for your new position in the CRC?
Because I was very interested in the conceptual design of the CRC as a whole and the project in which I am now working. The project aims to bundle the results of the other case study centred projects and to explain the causal mechanisms that lead to the dissemination of social policy. In this way, an independent theoretical contribution is to be made. That's what attracted me. I am not a pure theorist and have also worked empirically during my doctoral thesis. But I do have a "weakness" for theoretical questions. I have also focused on European welfare states so far. One starting point of the CRC is: We know a great deal about OECD welfare systems, but far less about other welfare systems. That's a lot like me.
And you didn't find that discouraging, but appealing?
Absolutely. That's what scientific work is all about, namely uncovering blind spots. I am familiar with the fundamental debates and theoretical points of reference of the CRC, which will initially be the focus of my work in the project. But the social policies of many non-OECD countries, especially in detail, are new territory for me. Because in our project, which has no empirical element of its own, we will look a lot into the other projects, I expect a lot from it.
Contact:
Dr. Johanna Kuhlmann
CRC 1342: Global Dynamics of Social Policy
Mary-Somerville-Straße 7
28359 Bremen
Phone: +49 421 218-58574
E-Mail:
johanna.kuhlmann@uni-bremen.de