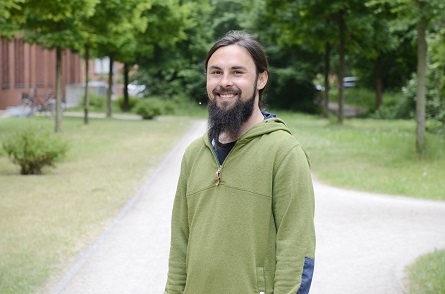 Alexaner Polte
Of course there is pressure at the university too, says Alexander Polte. In this interview he explains why scientific work nevertheless is relaxing for him and why he had lived in an old people's home in his early 20s.
When you were a little boy, what was your first dream career?
That changed frequently because I had many interests: sometimes I wanted to become an architect, sometimes a doctor, then something completely different.
When did you realise that you wanted to become a scientist?
In the second half of my studies. Before that everything was still a bit vague and I just wanted to graduate first.
What did you study?
Sociology and psychology at the TU Dresden. During my studies I worked as a student trainee in software testing. I realised quickly that I wanted to do network analysis. So I continuously specialised in this field and wrote my diploma thesis using this method. During my thesis I noticed that I like scientific work most and that I would like to do a PhD.
What is it that you like about scientific work?
The Openness. You are approaching your research with an open mind and try to avoid possible sources of error. This is both exciting and relaxing, because you don't have to force a result, as it may happen in the private sector. At the university you feel pressure too, to publish as much as possible and to raise third-party funding, but in the end it is our task to keep up this open minded approach to research.
And why didn't you become a natural scientist?
Because I'm interested in how society works. In social sciences, we are constantly confronted with chaos because the field is so complex. I think that is exciting.
To understand the chaos?
Exactly. Or at least to develop a feeling for it. In addition, at first I had no great need to devote myself to mathematics. But what changed during my studies.
Before your studies you were in Slovakia for a voluntary social year. Why did you choose Slovakia? Did you speak Slavic back then?
No, I couldn't. I've never been to Slovakia before. I had applied for a European Voluntary Service and a volunteer association offered me: Why don't you go to Slovakia? You can teach there. And so I went to Lipany in Slovakia.
What did you teach there?
Mostly German and sometimes English. I have taught at two elementary schools and a grammar school, where I mainly gave conversation classes.
Do you still have private or professional connections to Slovakia?
I still have friends there; I still have contact with old colleagues. My scientific work, that deals with health and long-term care systems, is hardly connected to Slovakia. Besides the fun fact, that I lived in a Slovak old people's home.
How did this happen?
The organisation that managed my European volunteer job also provides positions in an old people's home. In the old people's home there are rooma for the volunteers. That's how I ended up there.
What was your impression of Slovak old people's homes?
The nurses were overworked, they almost walked on their gums: too much work for too few employees. Basically, the same situation as in Germany. But still the atmosphere is very warm and friendly. And the food is good!
Can you outline your role in the SFB?
We investigate the dynamics of health systems and long-term care systems. My main focus is to assess the international interdependencies and how they affect the types of health or long-term care systems. There can be many different interdependencies: economic, political and cultural. This network component will be my research area. It is an interdisciplinary project, which we hope will open up many opportunities for cooperation with the other projects involved in the CRC.
Dear Alexander, thank you very much and good luck with your research!
Contact:
Alexander Polte
CRC 1342: Global Dynamics of Social Policy
Mary-Somerville-Straße 7
28359 Bremen
Phone: +49 421 218-57063
E-Mail:
alexander.polte@uni-bremen.de