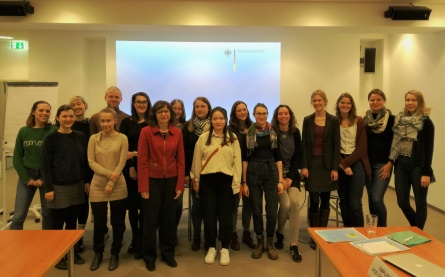 Dr. Irene Dingeldey with students at the Federal Foreign Office
With the support of CRC 1342, Irene Dingeldey and Master students travelled to Berlin for three days. They participated in workshops with the ILO and the German Foreign Office.
Together with students from the course "Collective and Indivdiual Labour Rights" from the Master's programme in Social Policy, CRC member Irene Dingeldey travelled to the Federal Foreign Office and the ILO branch in Berlin. They participated in workshops from 15-17 January.
The main focus was on the exchange between practitioners and academics, the application of theory and empirical findings to practice, and the demonstration of the process of norm-setting and implementation using the example of Germany.
Contact:
PD Dr. Irene Dingeldey
CRC 1342: Global Dynamics of Social Policy, Institute Labour and Economy
Wiener Straße 9 / Ecke Celsiusstraße
28359 Bremen
Phone: +49 421 218-61710
E-Mail:
dingeldey@uni-bremen.de