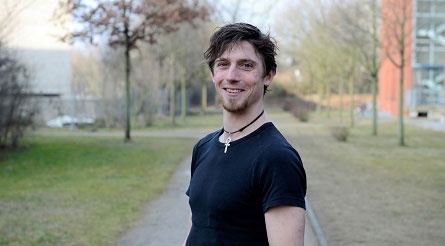 Michael Lischka
Michael Lischka talks about geography glasses and his role in project A01.
What would you have become if you hadn't become a scientist/geographer?
Originally was studying social work. But my studies had a strong focus on Germany, whic did not fit well with my curiosity and love for travelling. A friend of mine said to me: "I'm studying geography, it should suit you, too." As a result, I started to study geography in parallel to social work to see if I like it. Long story short: If I hadn't turned to science, I would be a social worker today. But geography just grabbed me, I couldn't get out. If you want to understand the world and like a change of perspective, there is nothing better than geography.
What is it about geography that appeals to you so much?
Geography opens up many perspectives on different levels of scale and on different complex topics. The range of geography is huge: cultural geography, economic geography, social geography, physical geography and so on. It's all connected. As a geographer, I can put on different glasses, depending on the topic and scale level I want to think on. Of course, the choice of frame and lens is not random, but well considered. Economic geography suits me and ma eyesight best , I would say. During my Masters I studied rural areas in the context of globalisation: These included, for example, smallholder structures in developing countries and how they are influenced by the global market and vice versa, what risks and opportunities arise as a result, including the driving forces of globalisation, the distribution of power in economic interdependence patterns and much more. Generally speaking: To generate knowledge on many levels, which also points out consequences and effects - for me this is the epitome of geography.
And what is your role within the CRC?
I work very closely with Ivo Mossig on project A01. We investigate intergovernmental interdependence at various levels. We are focused initially on economic interdependence: Who is connected with one another in which supranational organisation? What free trade agreements do exist? We want to measure and present these macroeconomic structures and some other economic parameters in the best possible way. At the same time, together with computer scientists we develop analysis methods to be able to gain insights from it. Current economic geographic globalisation research is very much focused on processes rather than outcomes.
What exactly do you do at the moment?
I am currently doing a network analysis with all the countries of the world and analyse how they are connected to each other through trade. The first result is a great network: some states are in the centre, others in the periphery. But what does it mean that China, the US and Germany are close to the centre, and that Russia has left the centre a few years ago? Or that the BRIC(S) states are pushing closer to the core, whereas established states are changing their position? Our core task is to understand the dynamics of these and other economic interdependencies and to work out their significance in different contexts. In this way, we provide input for the other projects that investigate the dynamics of social policy. For many other projects, economic interdependence is the variable X - and we in project A01 are investigating variable X of this variable X.

Michael Lischka at a glance:
Michael Lischka is a research fellow in project A01 and is working on his PhD within the research group Economic and Social Geography at the Institute of Geography at the University of Bremen. Lischka is involved in the development of the Global Welfare State Information System (WeSIS) in project A01, which is led by Andreas Breiter, Ivo Mossig and Carina Schmitt.
Lischka studied geography at the University of Vechta and graduated with a master's degree in "Geographies of Rural Areas - Change through Globalisation". He is working on his PhD thesis within the CRC.
Contact:
Michael Lischka
CRC 1342: Global Dynamics of Social Policy
Mary-Somerville-Straße 5
28359 Bremen
Phone: +49 421 218-57061
E-Mail:
lischka@uni-bremen.de