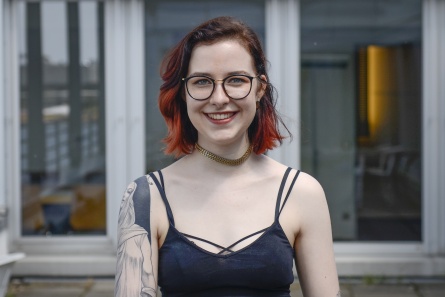 Mareike Müller-Scheffsky
As the first CRC 1342 intern, Mareike Müller-Scheffsky spent three months working in the project A05. In this interview, she talks about her experience and future plans.
In her 6th semester, Mareike Müller-Scheffsky is studying sociology at the Universiry of Bremen. 8 weeks of full-time internship are part of the curriculum. Mareike chose to spend that time in our project "The Global Development, Diffusion and Transformation of Education Systems", working 25 hours per week. Therefore her internship lasted for three months.
How did you decide to do an internship at the CRC?
I'm simply very interested in research and I'm in the process of specialising within my studies, also with regard to my Bachelor's thesis. I've done a lot of sociological political theory so far, but I also wanted to get an insight into political science to see if I wanted to move in that direction. That's why I applied to the project leader Kerstin Martens.
What did you do during your internship?
I was well involved in the project and worked on various things. Looking back, there were three phases: In the beginning I worked on similar tasks as the student assistants in the project: mainly collecting data and creating country profiles. Then I wrote a manual for the work on the country profiles, based on my experiences and those of the student assistants. Helen Seitzer and Fabian Besche, with whom I mainly worked during my internship, wanted something in writing to guide new assistants. However, the manual also serves as an intersubjective tool for the colleagues from the other subprojects. I was very free in my work and also wrote quite a lot - about 25 pages.
What was the third phase of your internship?
I worked statistically. I received a half-finished CSV file with data on the introduction date and duration of compulsory primary education, which I was then able to complete for the most part. Then the data had to be transferred to R, which was new for me. I had no experience with R up to that point. In R, I converted the data set to another format so that certain things could be displayed. I did a missing analysis and looked, for example: In which years do we have no data at all? Later I made many graphs on the topic of how and when compulsory education got introduced in the countries. I had 214 countries with data for a period from 1880 to 2017. It is not easy to present this clearly. But after the coding it worked quite well and can also be used in the project for further analysis.
So, you were able to learn something from the internship.
Absolutely. During our sociology studies we worked almost exclusively with the Stata software and only with perfect data sets. Using R was instructive. But it was also important to see that quite simple tasks in practice can suddenly get quite complicated. Then you have to bite your way through it. Apart from the work I have just desribed, I went to many meetings during the internship, to a multi-project retreat and a co-creation workshop. In this way I also got to know the other CRC projects. At the workshop I had to explain what I was currently working on. It was difficult to explain spot on to the computer scientists involved in the CRC what I was currently working on, but it worked. Anyway, I was impressed by the great charts they made out of it.
Would you recommend other students to do an internship at CRC 1342?
Definitely! I was very free in my work, which I liked. Helen and Fabian wanted me to do a lot of new and different things in order to learn more. I could get in touch with them at any time, but you also have to do that if you don't make any progress. Because especially if you haven't worked a lot with data sets yet, the tasks can be a challenge. But I didn't feel overtaxed either. It was just about right.
What's the next step for you?
I will graduate with a Bachelor's degree by March 2020. I'm going to do a master's programme after my Bachelor's. In Utrecht there is a quite an interesting social research master's programme, in Berlin there are interesting programmes, too. Afterwards I would like to stay at university and do something research-centred.
Thank you very much for the interview and good luck for your future!