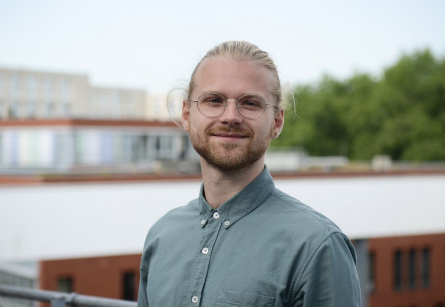 Felix Lanver
Felix was already involved in the CRC's research during the first funding period, when he was a student assistant, now he is a PhD researcher in project A02. The focus of his work will be the analysis of unemployment insurance worldwide.
Dear Felix, you have been a member of the CRC 1342 since May 2022 - although that's not quite true. You were already involved in the CRC's work during the first funding phase and even published a paper. What was your role back then?
At that time, I was a student assistant in project A02. One of the project's tasks was to analyse work injury programmes worldwide, which resulted in the Global Work-Injury Policy Database that Nate Breznau and I created.
So you looked up the legal texts on work injuries for all the countries in the world?
Yes, which involved the first introduction of the programmes in each country. In some cases it was not so easy. Sometimes a law was published but not implemented in practice. So in a second step we had to check whether the law had actually come into force or was just a paper tiger.
The work also resulted in a paper in an edited volume of the CRC series.
That's right, Nate Breznau and I looked at the determinants of the initial introduction of work injury laws. It turns out that state formation accelerates the introduction of work injury coverage, which is especially true for work injury insurance. Democracy also plays an important role, as do proximity effects.
It is rare that student assistants are so strongly involved in the research process.
Absolutely, I thought that was really great of the whole team and especially of Nate, that he took me under his wings and then also gave me the opportunity to carry more responsibility. This gave me insights into how the scientific publication process works: from the first workshops, where you agree on the methods, to the final proofs when the paper is ready to go to press.
Did that encourage you to continue working in science?
Very much so. I realised how much I like science and that I want to continue with it.
The start of the CRC's second funding phase came at a perfect time in that respect.
Yes, sometimes you have to be in the right place at the right time: I finished my Master's degree at the end of March 2022, so the transition to the position in CRC 1342 was almost seamless.
What have you been studying?
I was in the double-degree programme "European Labour Studies and Social Policy" - a cooperation between the University of Bremen and the University of Milan. I spent one year in Bremen and one year in Milan. Before that I had studied Integrated European Studies in Bremen. Towards the end of my Bachelor's degree, I took a seminar on international social policy with Carina Schmitt. And it was through Carina that I got my job as a student assistant in A02.
What is your role in the current A02 project? Are you still working on work injury programmes?
I'm mainly working on unemployment insurance now. My task is first to collect and code data, with a stronger focus on generosity and coverage. The field of investigation will be nowhere near as large as for work injury programmes, as there are far fewer countries with unemployment insurance. There will certainly be unique challenges, such as how to eventually code the data and harmonise it with the WeSIS database.
Sure, but it must be appealing for you to look more closely at how the systems are designed in phase 2, beyond the implementation dates.
Absolutely! That has to be done in the second phase, and it will reveal completely different, interesting aspects. In social policy research, you often work with classic categorisations, e.g. the Three Worlds of Welfare, but what is often missing are questions and answers regarding coverage and generosity of the systems. If you want to analyse social policy, but you don't have this kind of data - which is especially the case in the Global South, and even more so with historical data - then you are facing a research gap. And from that point of view, it is particularly exciting to now be working in the forefront to fill this gap.
Do you already have a topic for your doctoral thesis?
I have a rough plan. I want to look at the path dependency of social insurance and I'm currently researching how the early introduction of social policy had long-term effects on, for example, inequality or political trust. The other question is more specific: how social insurance differs from other types of programmes such as social assistance in terms of state building and political legitimacy. Methodologically, I will probably do macro-analysis. Besides the socio-political content, I am very interested in working more deeply with statistics and quantitative methods.
Contact:
Felix Lanver
CRC 1342: Global Dynamics of Social Policy
Mary-Somerville-Straße 5
28359 Bremen
E-Mail:
lanver@uni-bremen.de