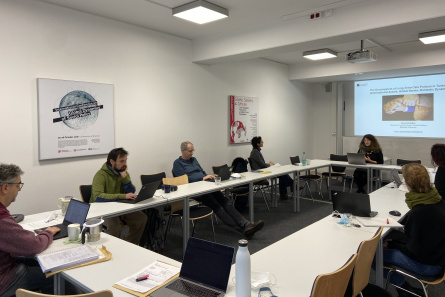 The CRC project A04 has organised a workshop with experts from Turkey at the end of October to analyse developments in long-term care in both countries.
On October 21st, the A04 project "Global developments in healthcare systems and long-term care as a new social risk" organized a workshop on long-term care policies in Turkey and Germany. The main goal of the event was to discuss the historical and contemporary developments of long-term care in Turkey and Germany, in order to identify major milestones of both systems, as well as to explore whether and how we can compare both cases.
In addition to the team members of the A04 project, external experts on Turkey were present to discuss the Turkish case. Dr. Özden Güdük discussed the historical developments of long-term care policies in Turkey, and Cansu Erdogan presented one of the chapters of her PhD dissertation, titled "Development of Long-Term Care Policies in Turkey: (Inter)national Actors, Global Norms, Domestic Dynamics."
Dr. Özden Güdük is currently a visiting postdoctoral researcher in the Department of Health, Long-Term Care and Pensions at Socium. She is an assistant professor in the Health Science Faculty at Yuksek Ihtisas University in Ankara, Turkey. She has worked in the healthcare sector in different positions and organizations for more than 20 years. Lately, she has been working on the topic of home healthcare services in Turkey. This topic includes the patients who need long-term care and their caregivers/relatives and the organizational structure that provide the services for them.
Cansu Erdogan is a PhD student and doctoral researcher at the Research Training Group "World Politics" at Bielefeld University since 2020. She has completed my Bachelor's degree at Koç University in Istanbul, Turkey and a Master's degree in Sociology at Bielefeld University. Between 2017 and 2020 she worked as a research assistant in the project "How 'social' is Turkey? Turkey's social security system in a European context" in Bielefeld.
Contact:
Dr. Gabriela de Carvalho
CRC 1342: Global Dynamics of Social Policy
Mary-Somerville-Straße 3
28359 Bremen
Phone: +49 421 218-57078
E-Mail:
decarvalho@uni-bremen.de