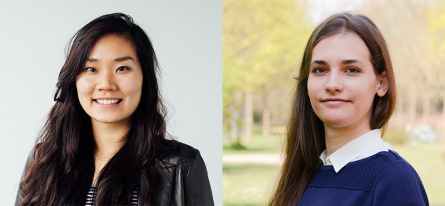 Keonhi Son, Helen Seitzer
Seitzer wrote her doctoral thesis in project A05 on transnational education policy, Son in project A06 on the inclusiveness of maternity leave programmes worldwide.
Helen Seitzer defended her PhD thesis on "Conceptualising the Transational Education Policymaking Process from a Relational Perspective" at the beginning of October. She has already published parts of her work in international journals.
Keonhi Son defended her thesis ("The Influence of the ILO Maternity Protection Conventions on the historical development of paid maternity leave in the world") on 25 October 2021. Son argues that informal sector workers, especially women, in the Global South are excluded from the application of international labour standards because of the way states translate and implement these standards. Son was able to test this argument using a database on paid maternity leave in 165 countries between 1883 and 2018, which she had built in collaboration with other members of the A06 project.
Further defences of doctoral theses in CRC 1342 will follow in the coming days and weeks.
Contact:
Dr. Helen Seitzer
CRC 1342: Global Dynamics of Social Policy, Institute for Intercultural and International Studies
Mary-Somerville-Straße 7
28359 Bremen
Phone: +49 421 218-57065
E-Mail:
seitzer@uni-bremen.de
Dr. Keonhi Son
CRC 1342: Global Dynamics of Social Policy
Mary-Somerville-Straße 9
28359 Bremen
Phone: +49 421 218-99858
E-Mail:
son@uni-bremen.de