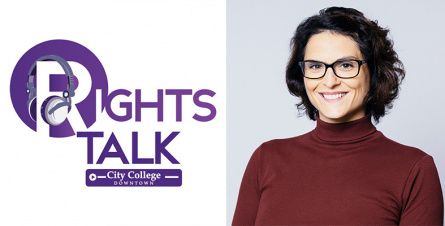 The co-director of project A04 was invited to the podcast run by the City College of New York to talk about health care systems in the Global North and South, global trends and challenges doing research on these topics.
Rights Talk is a City College of New York podcast that addresses current human rights challenges around the world. The podcast invites critical perspectives and questions the future of rights in the twenty-first century.
Lorraine Frisina Doetter, co-director of the CRC project A04 Global Developments in Health Care Systems and Long-term Care as a New Social Risk spoke on the podcast about health care around the world and challenges in comparative health care systems research.
Among other topics, Frisina Doetter touched on topics like health care as a human right, global trends challenging healthcare systems around the world, the inefficiencies of the Us healthcare system and its resistance to change.
Frisina Doetter also presented the work being done at CRC 1342 and the challenges of doing comparative healthcare systems research on a global level: (1) the availability of data, especially historic data on healthcare in the Global Sout, and (2) How to arrive at concepts that can be universally applicable and still meaningful. "Most scholars have a very specific understanding of a health care system with doctors and nurses trained in biological studies as the core", Frisina Doetter says. Other actors are being neglected as well as so called alternative medicine, which is a functional equivalent in many societies. "These and other functional equivalence should not be missed/neglected in our research. We need to develop concepts that capture that in our comparisons. In order to do this, we need to examine our normative and epistemic biases."
Listen to the episode of Rights Talk:
The Right to Health in Comparative Perspective: the WHO, North-South Systems, and Transnational Interdependencies with Dr. Lorraine Frisina Doetter
Contact:
Dr. Lorraine Frisina Doetter
CRC 1342: Global Dynamics of Social Policy
Mary-Somerville-Straße 3
28359 Bremen
Phone: +49 421 218-58561
E-Mail:
frisina@uni-bremen.de