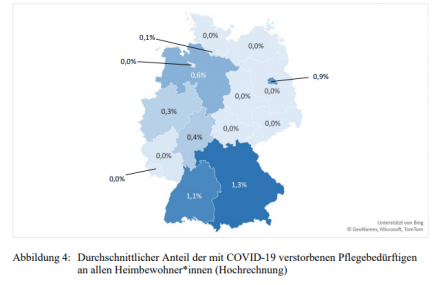 Homes and care services are highly affected by the pandemic. Nearly half of the services report that outpatient care is at risk.
A nine-member team from the Institute for Public Health and Nursing Research (IPP) and the SOCIUM Research Centre Inequality and Social Policy, led by Karin Wolf-Ostermann and CRC member Heinz Rothgang, conducted a nationwide online survey in outpatient and inpatient nursing facilities. Data are now available from 701 nursing services, 96 semi-inpatient and 824 residential institutions.
Nursing homes, as well as nursing services, are affected to a high degree by COVID-19 cases, both among employees and among those in need of care. Based on data from the Robert Koch Institute for May 5, 2020, more than 60 percent of deaths nationwide are attributable to residents of nursing homes (49 %) or clients of outpatient care services (12 %) - their share of all infected persons is only 8.5 percent. It is remarkable that 80 percent of all nursing homes had no confirmed COVID-19 cases. The cases are therefore concentrated in a few facilities, but these are then usually severely affected.
Almost every fifth nursing home and every tenth outpatient nursing service is affected by cases of employee illness. The proportion of sick people is six times higher among employees in nursing homes than in the normal population, and twice as high among employees in outpatient nursing services.
About half of all nursing services and more than two thirds of all nursing homes report staff absences of up to 10% due to the corona virus. In one sixth of the nursing homes, the absence of personnel is even more than 10%. Bottlenecks with regard to personal protective equipment for employees or surface disinfectants were originally very large. In the meantime, the situation has eased somewhat, although one in four nursing services and one in six nursing homes still complain about too little protective equipment.
Up to now, nursing homes have been the main focus of media coverage. However, just under half of all outpatient services report that the care of those who have been cared for up to now is at risk, unstable or even not guaranteed. "The fact that so little attention is being paid to home care is worrying in light of this," the report states.
From the perspective of the research team, the survey reveals the following: In order to be able to guarantee the reliability of care, the demands of care services and inpatient facilities must be met. This includes nationwide and practical recommendations for action, a permanent adequate supply of protective and disinfectant agents, systematic and regular testing of residents and staff, as well as better remuneration for nursing staff and improved staffing.
You can download the full report on the results of the survey of care facilities during the Corona pandemic here (German only)
Contact:
Prof. Dr. Heinz Rothgang
CRC 1342: Global Dynamics of Social Policy
Mary-Somerville-Straße 3
28359 Bremen
Phone: +49 421 218-58557
E-Mail:
rothgang@uni-bremen.de