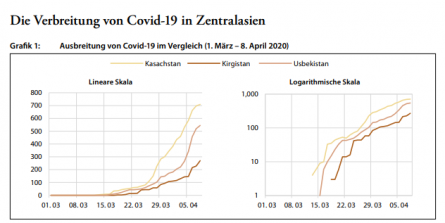 Covid-19 cases in Central Asia (Source: Zentralasien-Analysen Nr. 140)
The CRC project provides regularly updated information on the situation in Eastern Europe and Central Asia.
The team around project director Heiko Pleines is compiling and processing extensive data on the development of the Covid-19 pandemic in Eastern Europe and Central Asia. In addition, the dossier provides chronicles at country level on the respective social policy responses to the development of the pandemic. This information is regularly updated and supplemented with analyses by country experts.
The dossier on the Covid-19 pandemic can be found on the pages of the Research Centre for East European Studies at the University of Bremen. English texts will follow soon.
The analyses of the situation in Russian can also be found on the website of the Federal Agency for Civic Education (in German only).
Contact:
Prof. Dr. Heiko Pleines
CRC 1342: Global Dynamics of Social Policy, Research Centre for East European Studies
Klagenfurter Straße 8
28359 Bremen
Phone: +49 421 218-69602
E-Mail:
pleines@uni-bremen.de