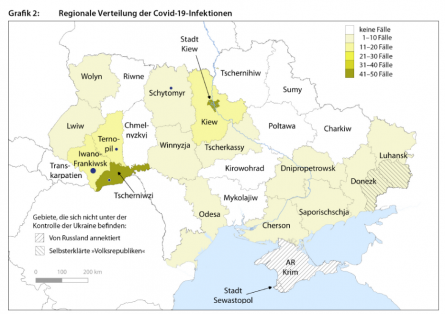 Covid-19 cases in Ukraine, by region (source: Ukraine-Analysen Nr. 232)
In the "Ukraine-Analysen", experts examine how the Ukrainian government is reacting to the spread of the novel coronavirus.
Pavlo Illiashenko and Olena Levenets from the Technical University of Tallinn analyse in their article in issue 232 of "Ukraine-Analysen" how the novel corona virus spread in Ukraine and how the government reacted to it. They take into account data up to 18 March 2020.
The authors conclude that the Ukrainian government and the authorities were relatively passive until March 11: Mainly measures were announced, but only partially implemented, which aimed to prevent the entry of the virus from abroad (especially travel warnings, temperature measurements of people entering from Italy). Tests for Covid-19 infections were almost never carried out (only 43 tests until 11 March).
From 11 March onwards, government measures were significantly tightened. Schools and borders were closed, assembly bans were imposed, shops had to close, local states of emergency were declared. Ukraine only continues to lag behind in tests for infections, which have been carried out many times more frequently in neighbouring countries.
The authors conclude that the government of Ukraine was unprepared, at least in the initial phase of the crisis. This is also due to the fact that the government's ability to act was limited by the dismissal of ministers by the president at the beginning of March. After 11 March, however, there was a strict change of course, according to which the government acted much more proactively than its neighbouring states.
A detailed analysis of the Ukrainian response to the Covid-19 pandemic can be found in the current issue 232 of Ukraine Analyses (in German only).
Contact:
Prof. Dr. Heiko Pleines
CRC 1342: Global Dynamics of Social Policy, Research Centre for East European Studies
Klagenfurter Straße 8
28359 Bremen
Phone: +49 421 218-69602
E-Mail:
pleines@uni-bremen.de