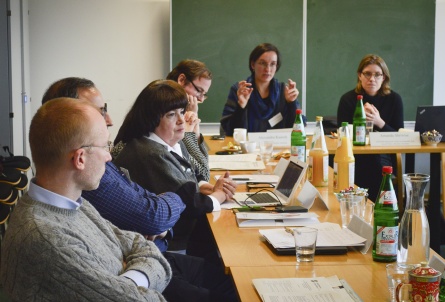 Workshop with international experts.
B06 members and other international experts discussed the transfer of social policy concepts from the OECD sphere to the post-Soviet region. The results of the workshop are to be published in "Global Social Policy".
The CRC research project B06 on "External reform models and internal debates on the new conceptualisation of social policy in the post-Soviet region" has organised an international workshop on "International knowledge transfer in social policy: The case of the post-Soviet region" on November 9, 2019.
With participants from the post-Soviet region as well as from Europe and North America, the workshop brought together experts from political science, economics, sociology and other relevant academic disciplines. It aimed to draw a more comprehensive picture of the influence of social policy concepts originating in the OECD world on reform processes in the post-Soviet region. The intensive discussions focused especially on the role that international actors play in this knowledge transfer and on the domestic evaluation of these social policy concepts. For this workshop, knowledge transfer has been understood as an open and multi-directional process with a strong discursive dimension.
The result of the workshop will be submitted to Global Social Policy for a special issue asking how the underlying social policy concepts are perceived and evaluated and in particular which role domestic political decision-makers and the public ascribe to Western reform models. At the same time, the special issue wants to look at a broad range of actors (not only at international governmental organizations, but also at relevant non-governmental organizations and international experts). Consequently, the focus of the analysis lies on the main actors during the (still ongoing) redesign of the post-Soviet welfare systems. The contributions for the proposed special issue come from different disciplinary traditions, but they converge in their basic focus on the international knowledge transfer and on the domestic evaluation of the related social policy concepts.
Contact:
Prof. Dr. Heiko Pleines
CRC 1342: Global Dynamics of Social Policy, Research Centre for East European Studies
Klagenfurter Straße 8
28359 Bremen
Phone: +49 421 218-69602
E-Mail:
pleines@uni-bremen.de