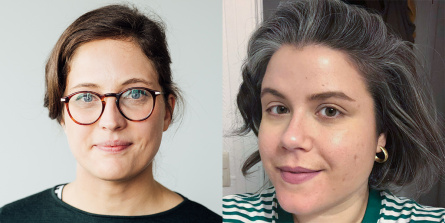 Kristin Noack, Dr. Anna Safuta
In a podcast interview, Anna Safuta and Kristin Noack analyse the working conditions of migrant live-in care workers in Germany, who in a legal grey area have become a pillar of long-term care.
Anna Safuta and Kristin Noack of project B07 are investigating the transnational provision of services in long-term care. With the feminist Lila Podcast they talked about the situation of mainly Eastern European women who provide long-term care in an estimated 300,000 German private households - 24 hours a day, seven days a week, up to three months in a row.
"The working conditions of the carers are difficult due to their permanent availability, rest periods can hardly be respected and it is difficult to separate themselves from their work," says Kristin Noack. 90 percent of the employment relationships are not regular, the carers are mostly registered as self-employed or as sent workers. "This leads to legal problems," says Noack: for example that minimum wages are not paid or the maximum working hours are exceeded.
The Covid 19 pandemic, during which migrant carers had problems entering Germany due to quarantine regulations, brought this otherwise hardly visible segment of the care industry into focus. And with it the poor conditions under which the women work. "Feminists are talking about these issues for decades," says Anna Safuta, "but it took a pandemic for this to be recognized: Migrant care work takes place unnoticed, is undervalued and underpaid". Demographic and socio-economic change has been taking place for many years and migrant carers are oine solution for the resulting challenges - "but at what costs?", Safuta asks. "Care needs are not private problems for families to solve by exploiting underpaid migrants." The working conditions of migrant live-in carers should be regulated and normalised at national and European level, says Safuta.
"The system of 24-hour care is obviously not sustainable," says Noack. It has to be combined with outpatient care services provided by other providers, neighbourhood assistance and also work by family members. Some initiatives in this direction already exist.
The entire interview with Anna Safuta and Kristin Noack can be listened to on the "Lila Podcast" website (issue of 24 September 2020, from minute 35:00).
Contact:
Kristin Noack
CRC 1342: Global Dynamics of Social Policy
Mary-Somerville-Straße 7
28359 Bremen
Phone: +49 421 218-58604
E-Mail:
knoack@uni-bremen.de
Dr. Anna Safuta
CRC 1342: Global Dynamics of Social Policy
Mary-Somerville-Straße 7
28359 Bremen
Phone: +49 421 218-58597
E-Mail:
anna.safuta@uni-bremen.de