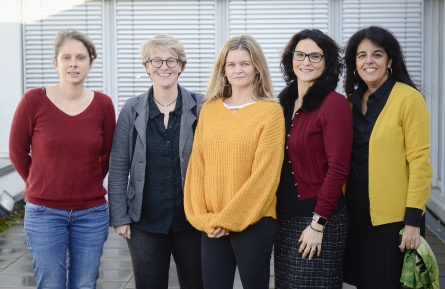 Prof. Dr. Kerstin Martens, Prof. Dr. Marianne Ulriksen, Sharla Plant, Dr. Lorraine Frisina Doetter, Prof. Dr. Delia González de Reufels
In a workshop with publisher Sharla Plant the editorial board finalised its plan for the next 18 months and developed ideas for further volumes.
At the beginning of December, the editors of the new CRC Palgrave Macmillan book series "Global Dynamics of Social Policy", Lorraine Frisina Doetter, Delia González de Reufels, Kerstin Martens and Marianne Ulriksen met with Palgrave publisher Sharla Plant in Bremen. It was jointly agreed that three volumes would be published next year:
Carina Schmitt (Ed.): Social Protection in the Global South
Lutz Leisering (Ed.): A Hundred Years of Social Security in Middle-Income Countries
Kerstin Martens, Dennis Niemann & Alexandra Kaasch (Ed.): International Organizations in Global Social Policy

Subsequently, the draft of an edited volume was discussed, which will tell a short history of socio-political turning points worldwide in about 40 short articles. The contributions are exclusively provided by members of CRC 1342 and are based on results of its 15 projects. The volume will be published in the first half of 2021.
After the editors had decided on a design for the Palgrave CRC series, Sharla Plant met in the afternoon with around a dozen authors who presented their ideas for further volumes in individual discussions. These ideas will be finalised in the coming months.