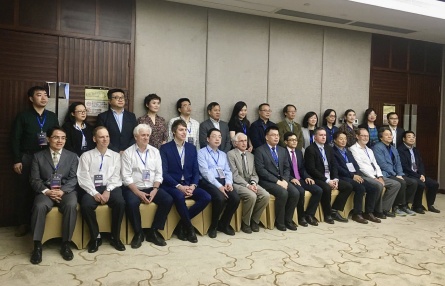 Tao Liu, Tobias ten Brink and Armin Müller presented their research at an international conference of the Centre for Chinese Public Administration Research in Guangzhou.
From 24-25 November 2018, members of project B05 participated in the "Poverty, Inequality and Social Policy International Conference 2018" in Guangzhou, China. The Centre for Chinese Public Administration Research at Sun Yat-sen University organised the conference, and scholars from Singapore, Hong Kong, Taiwan, mainland China, Korea, Australia, Germany and the UK attended.
Prof. Tao Liu, Prof. Tobias ten Brink and Dr. Armin Müller presented during the conference. Dr. Müller evaluated the effectiveness of health insurance in preventing illness-induced poverty in China among the elderly, whereas Prof. Liu defined digital risks and how they could challenge social protection. Prof. ten Brink introduced the Collaborative Research Centre 1342, its two Project Areas A and B, and project B05. Adding on the introduction, he also mentioned how Chinese Dibao (minimum living allowance) has synthesized disparate ideas of European welfare universalism, American's workfare and the Chinese tradition of pragmatism and regionalism. Project team B05 also had an internal meeting at Guangzhou.
Contact:
Prof. Dr. Tao Liu
Dr. Armin Müller
CRC 1342: Global Dynamics of Social Policy, Research IV and China Global Center
Campus Ring 1
28759 Bremen
Phone: +49 421 200-3473
E-Mail:
arm.mueller@jacobs-university.de
Prof. Dr. Tobias ten Brink
CRC 1342: Global Dynamics of Social Policy, Research IV and China Global Center
Campus Ring 1
28759 Bremen
Phone: +49 421 200-3382
E-Mail:
t.tenbrink@jacobs-university.de