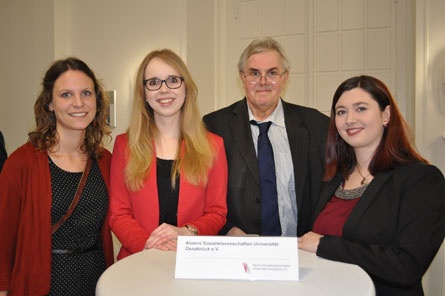 Prof. Dr. Ralf Kleinfeld and the award winners Caroline Mulert, Svenja Gödecke und Christina Hafkemeyer (left to right). Picture: Utz Lederbogen
Her master thesis on EU policy was awarded by the University of Osnabrück.
Our researcher Svenja Gödecke has received the Alumni-Förderpreis Sozialwissenschaften 2017/2018 of the University of Osnabrück for her master thesis. Gödecke, who graduated in European Governance in Osnabrück in summer 2017, dealt with the topic "The Europeanisation of Sports Policy: The Establishment of an "EU Sports Policy" and the Effects of Europeanisation for EU Member States by the Example of Germany" in her Master Thesis.
Svenja Gödecke has been working as a researcher at the Institute for Intercultural and International Studies (InIIS) at the University of Bremen since October 2017. Within the CRC 1342 she is working in project B04, in which she will do her PhD.
Each academic year, the University of Osnabrück honours outstanding academic achievements and social commitment. In the academic year 2017/2018, a total of 31 students and graduates received awards.
Further information:
Svenja Gödecke at a glance
Förderpreis of the University of Osnabrück: Winners and Donors
Contact:
Svenja Gödecke