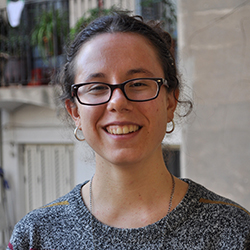 Clara Fontdevila
Clara Fontdevila from the Autonomous University of Barcelona is currently staying at CRC 1342 as a guest researcher. In her PhD thesis she is investigating how UN's global education agenda has been shaped.
Clara, you are sociologist and currently working on your PhD. What is your thesis about?
My thesis is about the post-2015 global education agenda integrated within the UN Sustainable Development Goals. This agenda is also known as Education 2030 and is regarded as a landmark in the history of global targeting in education. I try to understand the community of practice that is linked to development of targets and the indicators. I address this from a political-sociology perspective. I am looking at who was and is involved in the process? What was the varying influence of these collective and individual actors? Which networks emerged? And which are the key mechanisms of consensus-building, or to what extend is there a conflict of interests?
Which actors are you looking at especially?
I am looking at collective actors like International Organisations, NGOs and national bureaucracies. But I am also interested in the role of individual actors within these collective actors. In order to understand possible brokers or policy entrepreneurs and where they are located within these networks.
At what stage of your PhD are you?
I am in my third year now.
Have you collected most of your data by now?
Not yet. The data collection has proved the most challenging aspect. I am conduction semi-structured interviews, and making appointments with the actors is very time-consuming. And I have also tried to conduct ethnographic-oriented observations of key meetings, in order to understand what is going on, what are the conventions and patterns of communication, and which are their effects in terms of distribution of power.
And when do you plan to finish?
I would like to finish by the end of next year. The whole process took longer than I expected. And I am not working full-time on my PhD thesis, I am involved in other research projects as well and I also do some teaching.
What brought you to Bremen?
I read a lot of Kerstin Martens' work and of Dennis Niemann. I have been following their work for a long time. Also, the recently approved collaborative research centre got approved Bremen seemed to be a really interesting place to go to.
Are you involved in Kerstin's CRC project?
No, I enjoy the exchange with Kerstin and her colleagues, but I am not involved in any of her work. I am purely a guest researcher here and I try to make the most of the chance to focus on my thesis.
Clara Fontdevila's profile on academia.edu.