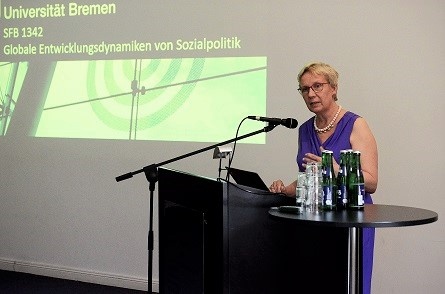 Senator Eva Quante-Brandt
The Collaborative Research Centre "Global Dynamics of Social Policy" presented its research programme to an expert audience in Bremen. Senator Quante-Brandt emphasised the importance of the CRC for the federal state and its science enviroment.
The Collaborative Research Centre "Global Development Dynamics of Social Policy" (CRC 1342) has presented its research programme to an expert audience on 1 June. About 100 invited guests from universities, politics, administration and civil society came to the Bremen House of Science to follow the presentation and to talk to the team of the CRC 1342.
To kick off the event, Bremen's Senator of Science Eva Quante-Brandt congratulated the team of the CRC 1342 on the success of the proposal and the funding by the German Research Foundation. She emphasised the importance of the social sciences for Bremen as a research location and described the CRC 1342 as a "social science lighthouse project that shines beyond the borders of Europe". Excellent research and teaching, high international visibility and immediate social benefit of research - the CRC will set a milestone in these fields, Quante-Brandt said.
CRC spokesperson Herbert Obinger then gave an overview of the structure and research programme of the CRC. In a worldwide comparison Obinger showed that the introduction of social policy programmes varied greatly in time and space. "Why are there these major differences in social policy? This is what we are interested in, this is what we want to explain," said Obinger. To this end, the researchers involved in the CRC investigate not only factors of influence within nation states, but also international interdependencies such as economic relations, migration, the exchange of ideas, the influence of international organisations and relations of violence between states.
Frank Nullmeier pointed out that societies are faced with the fundamental decision as to whether they react to social challenges in an exclusive or solidarity-based manner, i.e. through social policy measures. In many parts of the world, forms of social protection existed very early, including in Europe, South America and South-East Asia.
In its analysis, the CRC 1342 focuses on the period 1880 to 2020 and takes 1) a macro-quantitative approach in order to identify and analyse the various areas of social policy on a global scale. A central element of this project area is the development of a web-based, interactive database on social policy: the Global Welfare Information System (WeSIS). On the other hand, 2) detailed case studies are conducted at country level in order to investigate in depth the effects that a wide variety of influencing factors have on the design of social policy. The aim of this project area is to develop a theory of social policy dynamics that overcomes purely national narratives by capturing the causal mechanisms leading to the emergence of public social policy due to the interaction between national factors with inter- and transnational interdependencies.
Contact:
Philipp Jarke
CRC 1342: Global Dynamics of Social Policy
Mary-Somerville-Straße 7
28359 Bremen
Phone: +49 421 218-58573
E-Mail:
pjarke@uni-bremen.de