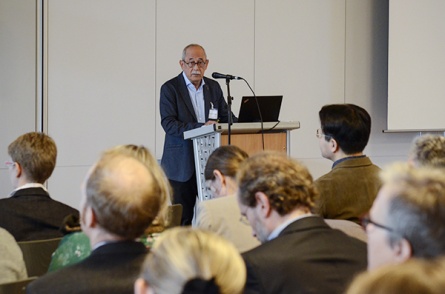 Prof. Armando Barrientos giving his keynote speech.
170 scholars from 35 nations met at the first conference of the Collaborative Research Centre 1342 "Global Dynamics of Social Policy" at the University of Bremen.
Worldwide there is an unimaginably large variety of social policy programmes with different scopes, levels of generousity and sources of financing. And this socio-political cosmos is constantly on the move. In their 85 presentations and three keynote speeches at the CRC 1342 conference, the participants addressed the question of how the interplay of domestic and international influences determines social policy worldwide. Leading international researchers presented their hypotheses and findings, including Prof. Armando Barrientos of the University of Manchester, Prof. Nicola Yeates of the Open University and Prof. Mitchell Orenstein of the University of Pennsylvania.
Barrientos showed in his speech that in low and middle income countries, spending on social assistance has increased significantly for some time now. According to Barrientos, classical theories of the welfare state do not provide a conclusive explanation for this development.
Yeates emphasised in her keynote that the scientific analysis of social policy should keep a close eye on its history, while Orenstein outlined his plan to develop a Social Impact of Transition Index to measure and compare the social consequences of the transition from a centrally planned to a market economy in the post-Soviet region.
This conference was a first milestone for the Collaborative Research Centre "Global Dynamics of Social Policy", whose central aim is to develop the Global Welfare State Information System (WeSIS): an interactive global social policy atlas with which the development of social policy can be analysed and visualised - from 1880 to the present day and at any scale. In a few years, the Global Social Policy Atlas WeSIS will be made available free of charge not only to academics but also to the general public.
The conference was characterised by an extremely cooperative working atmosphere in which the speakers received constructive feedback on their papers and presentations. On the evening of the first day of the conference, the participants were also received in the Bremeische Bürgerschaft by Prof. Dr. Eva Quante-Brandt, Senator of Science of the Free Hanseatic City of Bremen.
Further information
Download the detailed conference programme.
Contact:
Philipp Jarke
CRC 1342: Global Dynamics of Social Policy
Mary-Somerville-Straße 7
28359 Bremen
Phone: +49 421 218-58573
E-Mail:
pjarke@uni-bremen.de